Agency: Vicimus
My Project Role: Creative Direction/UX Oversight

VP, Creative Strategy : Todd Lawson
Design UI/UX: Shreya Sadhan
Template Design: Shreya Sadhan, Aaron Lee
Marketing Design: Aaron Lee, Eric Williamson, Shreya Sadhan, Yan Malka
Over my entire time at Vicimus, Bumper has been worked on. The flagship product, Bumper has grown to have a user base through out North America, Mexico, Brazil and is growing by the day. It would be a long list for me to to break out all activities done on the product given its such a huge part of the company business.
But to name a few key projects my team, departments and myself touched in relation to the software:
PRODUCT: Product design, User Experience (UX), User Interface Design (UI), User Flows, Wireframes, New feature development, software maintenance, additional marketing template design, creative library creation and maintenance, dealer interviews and testing.
SALES & MARKETING: Marketing Plan Development and Oversight, Websites, Published Articles, Media Campaigns (Print, Digital, Video), Inbound and outbound Sales Material (sell sheets, direct mail, leave behinds)
USERS: User Manuals, User Videos, Customer Information Communications, Customer Strategy Documents, Welcome Packages for new customers, Customer Campaign Reporting Documents and Active Creative Services through general requests.
Bumper 3.0 2018 Interface (UI)
Bumper Templates
With the 2018 update to Bumper (3.0) we provided a ton of enhancements to what was already a powerhouse of Automotive Direct Marketing tools with the addition of four new campaign template designs for emails, letters and personalized webpages. Why is that a big deal? Well for a start it was the first time we could offer different ways to communicate with your customers since Bumpers creation, over five years ago.
And for the first time we needed to differentiate them from each other. Now we could have made up random names, given them people names (as if they were pets) or given them long forgetful descriptions like "Awesome slider page with four images and a form" – but that didn't feel like a Vicimus thing to do…and it would be lame. Instead we saw a chance to infuse our love for automotive into them from the start. Since then we continued to add new versions to the library which at last count had close to 100 themes and templates for dealers to market any message they wanted for any department.
So, we named them after actual race tracks.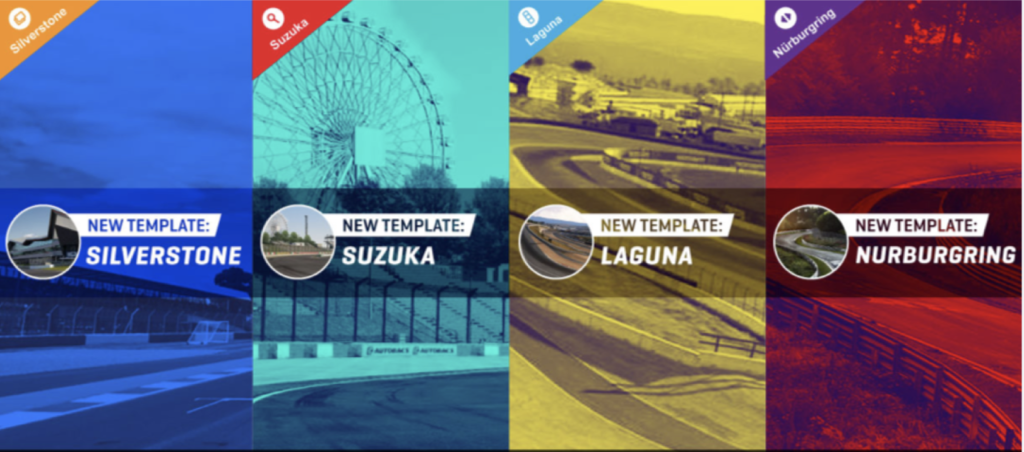 Bumper Try Me Tool
In 2019 for NADA we launched the BumperTryMe Tool, allowing prospects to send themselves a test campaign and experience Bumper First hand. To coincide with this launch we ran print ads with QR codes to quick launch the campaign, digital media, business card hands outs for sales staff and trade shows, pop up banners at trade shows with a QR code for every Manufacturer to scan and receive a campaign and other various medias.
Bumper Videos
To help market Bumper a large range of videos have been created from client testimonials, quick edits, interface walk throughs, how-to videos, strategic campaign result videos, real dealer stories, sales presentation videos, pitch videos and more. Vicimus YouTube Channel Bumper Playlist. This was done through an in house video and editing team as well as occasionally with other vendors.
Marketing (Various)
Marketing Plan Development and Oversight, Websites, Published Articles, Media Campaigns (Print, Digital, Video), Inbound and outbound Sales Material (sell sheets, direct mail, leave behinds)
---