Agency: Vicimus/Dashboard
My Project Role: Creative Direction/UX/UI/Architecture, Documentation

Chief Innovation Officer: Barry Hillier
VP, Creative Strategy : Todd Lawson
UX: Todd Lawson, Barry Hillier
Design UI/UX: Shreya Sadhan, Rosie Sobczuk, Isabelle Santiago
Template Design: Eric Williamson, Yan Malka
Used by hundreds of automotive dealerships across Canada as well as manufacturers Nissan and Toyota, Glovebox is a Content Management System (CMS) and Service based offering. Operating as a dealers virtual showroom and providing a full service online solution specifically tailored for a dealer and their needs across all departments. Includes full marketing support, training, strategic planning and creative development power allowing the dealers to create and easily edit their site. 2 years before wordpress moved to block editing, Glovebox introduced it to dealers in version 3.
A multi-award-winning platform that came out of dealers need when Dashboard found their requirements from store to store were so similar. It has been in used and continually updated for over 8 years.
A few key projects my team, departments and myself touched in relation to the software:
PRODUCT: Product design, User Experience (UX), User Interface Design (UI), User Flows, Wireframes, New feature development, software maintenance, page template for a large starter page design library and testing.
SALES & MARKETING: Marketing Plan Development and Oversight, Websites, Published Articles, Media Campaigns (Print, Digital, Video), Inbound and outbound Sales Material (sell sheets, direct mail, leave behinds)
USERS: User Manuals, User Videos, Customer Information Communications and Active Dealer Creative Services through general requests.
Much of my time on Glovebox has been reworking UX, UI and directing the team on building a library of template themes and pages. As well as marketing material. I have made hundreds of consumer journey and user flows…
Like Flows, the team created hundreds of wires and click-through prototypes…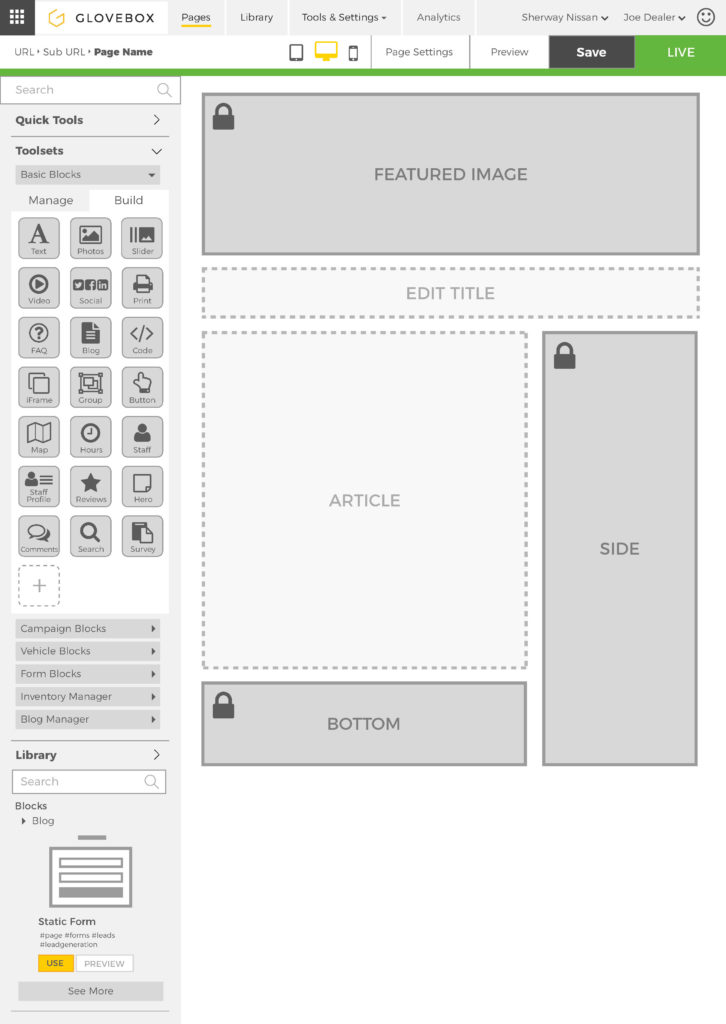 I almost always start interface projects off with paper before any software is opened and encourage my team and as any other staff involved in the project or with understanding of the category to start the same way. I believe in it so much I've written articles about it: My Brain Is Wired For Pen And Paper.