Agency: Powered By Dashboard
My Project Role: Creative Direction, UX Direction
Chief Creative Officer : Todd Lawson
UX/Design: Elicia Durtnall, Isabelle Santiago
Development: Kevin Langlois
Concept: Barry Hillier, Todd Lawson
RevUps Asset Builder is a simplified image creation tool built on a vast collection of predesigned sets of promotional images for automotive retailers.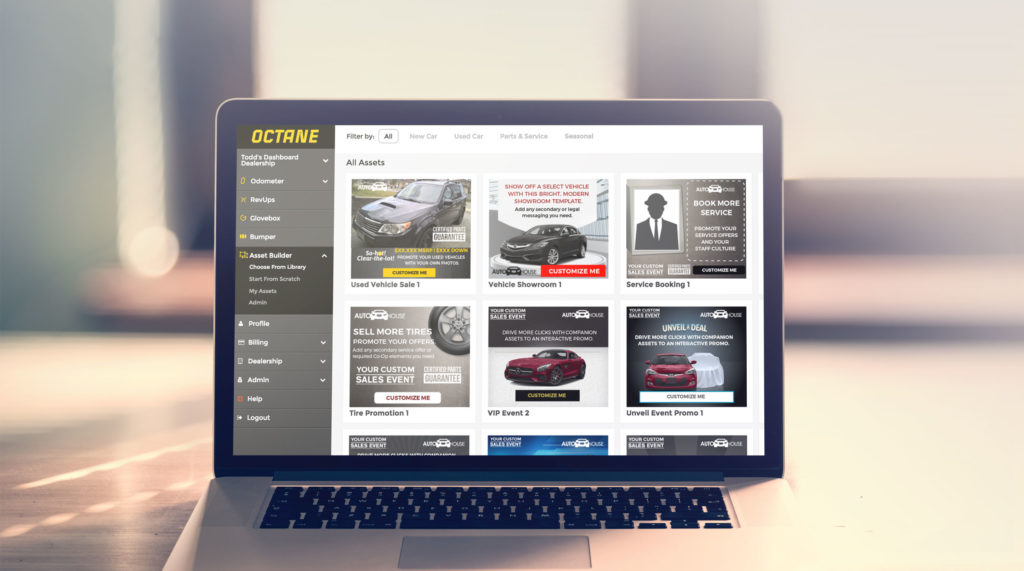 Because no one wants every wall in their house to be a different color…
If you hop into Google and search a handful of automotive brands you'll find within a matter of clicks you are now remarketed to by everyone. I do a lot of looking online. I look at dealer sites, OEMs, consumer forums, news and PR portals. Because of this 70-80% of the ads I'm presented with are automotive in nature. If I click on them and they are often from an OEM or regional group they take me to a site with the same look and feel. Matching-luggage we call it in the design world. However, not every dealer or group can afford an internal designer or an agency so you end up seeing many that start off looking good – if they took designs from their OEM for a larger campaign – and more that start off bad and quickly move into worse. I don't blame the retailers – if you are watching every penny you aren't going to spend thousands on design every month. Or worse they are paying an agency but wasting time and money with rounds of changes, slow turnaround times and lack of control. Does it have to be like this? If I can use a CMS for my site and change the look and text why can't I have the same flexibility with my brand and marketing in my own hands?
That is why the RevUps asset builder tool was created. We wanted to automate the design process for dealers and ensure anything you promote was able to have the same look and feel across the board regardless of where online someone engaged with it. And unlike the week it may take your agency to schedule you in or approve estimates we can let you or your internal staff do it in a few minutes for significantly less.
Make it yourself, design included.
The asset builder is effectively a simplified image creation tool built on a vast collection of predesigned sets. Which gives a dealership anything they would need in any department to be used online. The key to this is automation. Asset builder works on multiple assets at once.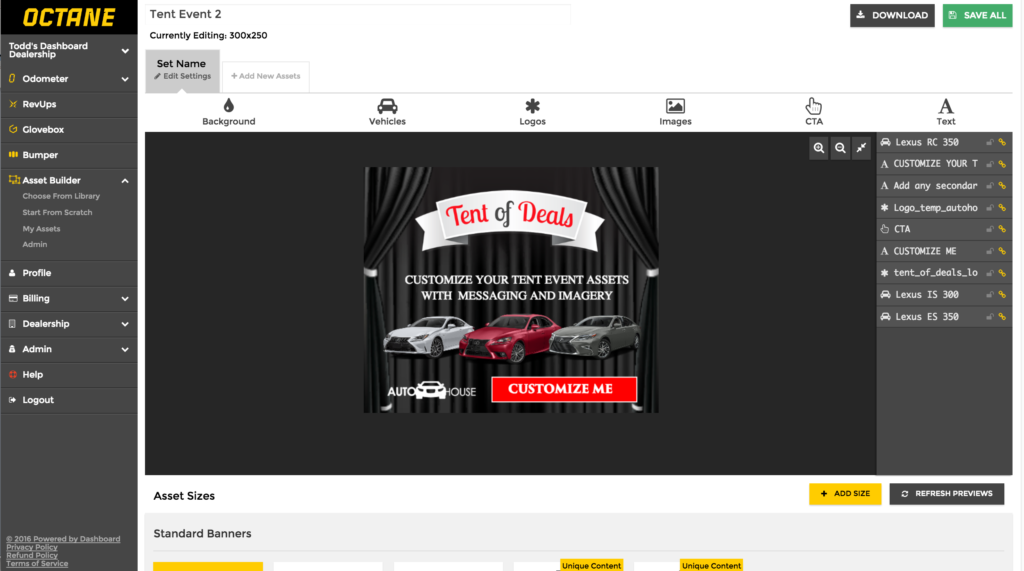 While you change text, colors or images in one size – it is updating for you automatically in the other connected sizes. You can create sets that are identical in their content or radically unique if necessary. This is where other tools fall down. Automation you can see in real time as you work.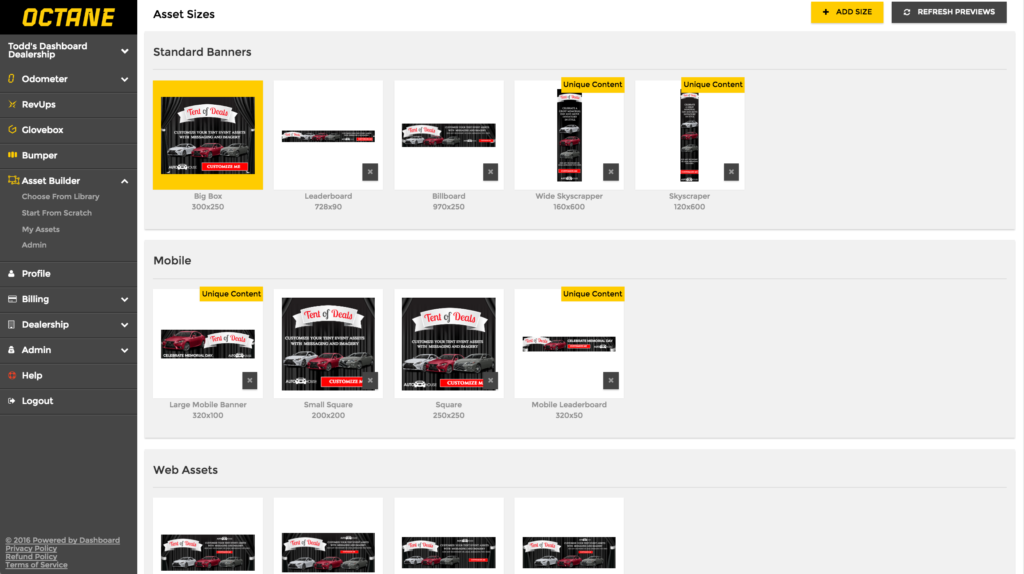 I have and still use Photoshop and a have worked with a variety of similar image creators over the past two decades and I still create one thing at a time. Though more robust software is starting to link things better it is not always intuitive, easy or cost effective to invest in. Neither is the training or staffing increases for working with more advances tools. For example taking a predesigned set from the library with 3 cars in it you can change every car, update the messaging, change images and colors and download an entirely new set in a few minutes with a minimal amount of adjustments for individual assets in a group.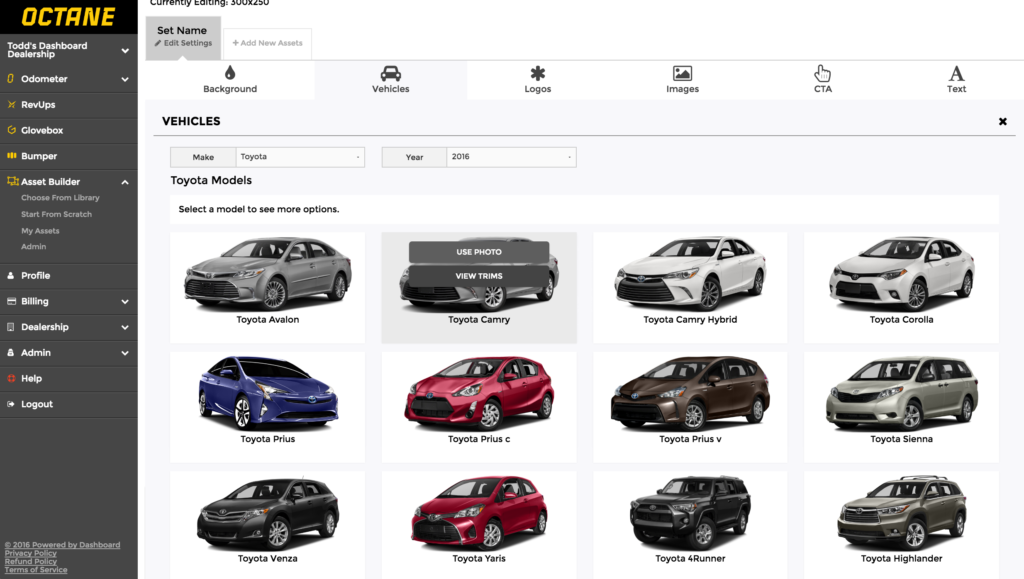 Any set you pick is professionally designed by our team based on years of experience creating assets manually for dealers and OEMs – so you know you are already starting with a solid design. Each comes with over twenty standard sizes form IAB banners, mobile banners, carousel images and email headers. If the set does not have the size you need you are able add it. Picking your own dimensions for it.
Create. Edit. Download. Repeat.
Once you have that template saved to your account you can go in every time you need to make a change and update all your visuals quickly or duplicate the set and create other sets that look the same but have different elements (say a different vehicle or offer). Ensuring no matter where you customer meets you online they know its your communication. This is extremely helpful when you are doing the monthly offer change over for your offers and giving media assets to a vendor or uploading them yourself into your media toolset. Imagine if all you had to do for a new national campaign was take what you had last month, change the event logo, update the offer and tweak a few elements yourself and download the same day the offers came in. No agency, no delays and first to market before you local competition.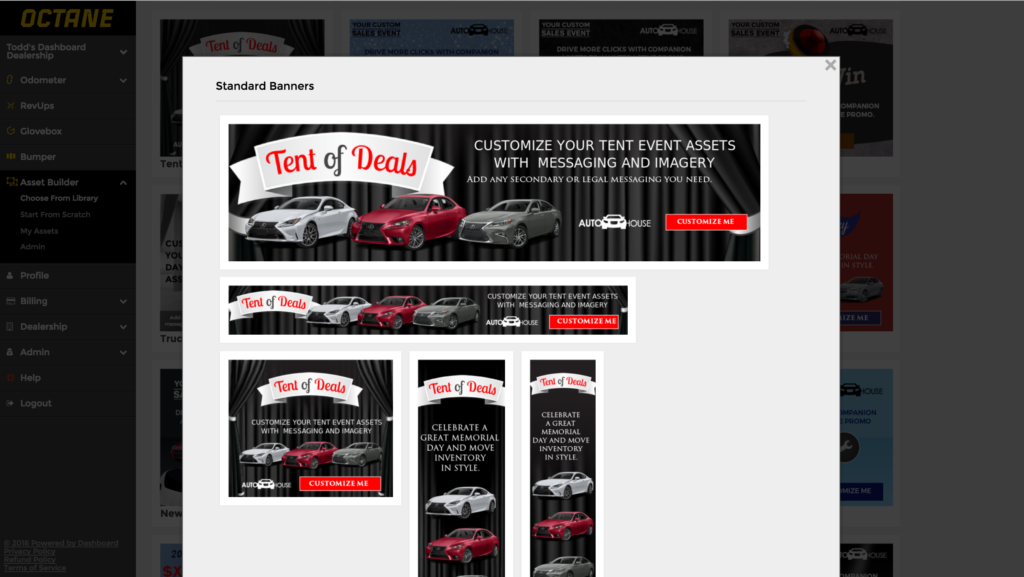 The unified brand experience creates a better memory recall to your stores and in the long run can create better retention through trust. If a customer enjoys doing business with you and you are always easy to spot when those competitors start showing up online or in searches there is a sense of comfort and familiarity. You can only get that form being consistent with your quality of service, your messaging and the look of your communication.
Behind the scenes we are continuing to invest in more automation to the system for future updates, more robust organization options and adding new complete sets to the library. Listening to our dealers using the tool and finding ways to solve issues that come up to improve the tool. We're just getting started.
(ORIGINALLY PUBLISHED ON THE OCTANE BLOG)